VideoScreensaver (Windows)
Description: A Windows Screensaver that does play video files like .avi, .mpg, .divx, .mp4 in full screen (usually any file that can be played in Microsoft MediaPlayer).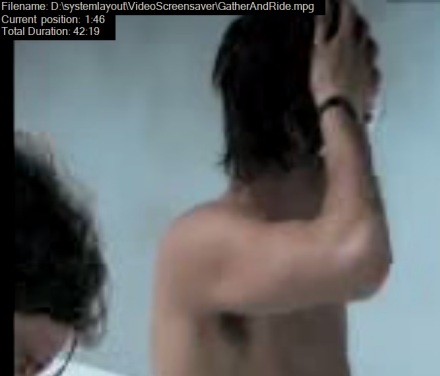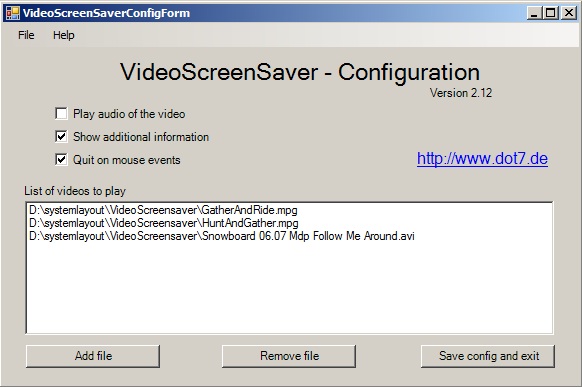 Requires: Microsoft .net framework, Microsoft DirectX 9, VideoCodecs for files that shall be played.
Known bugs: none.
License: Freeware; This software is provided 'as-is', without any expressed or implied warranty. In no event will the authors be held liable for any damages arising from the use of this software. Permission is granted to anyone to use this software as provided on www.dot7.de.
Installation instructions: Download PDF
Download: 
Version
Tested on Operating System Version
Download link
1.0
Windows XP 32-bit
Download v1.0
2.12
Windows 7 Professional 64-bit
Windows 7 Enterprise 64-bit
Download v2.12
| | |
| --- | --- |
| Tested video file types:: | Gets played: |
| .avi | yes |
| .avi (DivX) | yes |
| .mpg / .mpeg | yes |
| .mp4 | yes |
| .mov | no |
| any others | unknown |
Hint: Some great freely downloadable snowboard videos are available at http://www.dedicated-project.com (external content, NOT related to this webpage)
Statistics: Page last updated: 24.08.2015 10:58 / # page requests (this page): 2526 / # visitors: 10903